Our 8 Point Learning Program preschool teachers are our most important asset.  With energy and enthusiasm, they help each child feel secure and cared for in their home away from home. Our preschool teachers always find interesting ways to teach the 8 Point Learning curriculum.  This curriculum is designed to keep students on track for kindergarten readiness and our teachers make meeting the milestones fun and exciting! 
Debra Sparks Allison holds a BA in Psychology and a Masters Degree in Education.  She is a former ballerina, a mother, and grandmother. She has run three dance studios over the course of 38 years and currently runs Debra Sparks Dance Works in Newtown, PA.  She founded the Philadelphia Children's Ballet Academy, a 501(c) 3 non-profit ballet company and the Bucks County Dance Company, a scholarship program for pre-professional students.  To see what Miss Deb is up to in the world of dance, visit the dance studio website at www.debrasparksdanceworks.com.
Come and meet the 8 Point Learning Center preschool teachers in person by scheduling an appointment!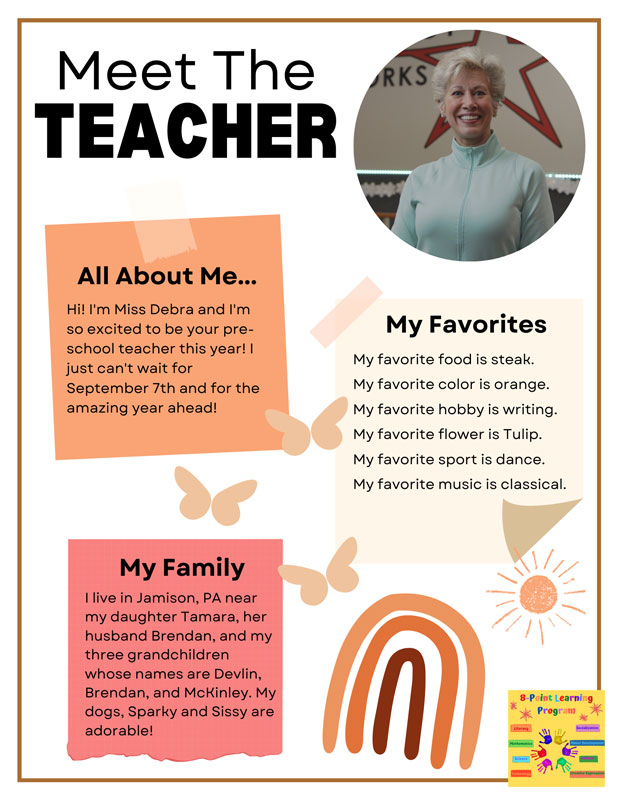 Caroline has a BS from LaSalle University.  She lives in Yardley with her husband and 4 children.  Her passion is nurturing, inspiring, and educating young children.  In the summer she enjoys running a Disney theme program for preschoolers in Ocean City, NJ that she created 10 years ago.  In the fall she loves to teach preschool with Miss Debra.  She also is a fitness instructor and enjoys being outdoors, reading, running, chocolate, tea, and yoga!